Marina Di Giacomo
Associate Professor
SSD: SECS-P/01 - economics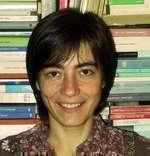 Contacts
+39 011 670 6074
+39 011 670 6062
Dipartimento di Scienze Economico-Sociali e Matematico-Statistiche
Università di Torino
Corso Unione Sovietica 218bis
10134 TORINO (Italy)
At
Department of Economics, Social Studies, Applied Mathematics and Statistics
Dipartimento di Scienze economico-sociali e matematico-statistiche
Corso di studio in Economia
Corso di studio in Economia e Management
Laurea Magistrale in Medicina e Chirurgia - sede di Torino
Quantitative Finance and Insurance
Two - Year Master Degree in Economics
Curriculum vitae
Curriculum Vitae (0.6 MB)
Publications
All my research products
Selected publications
Recent Publications
"Climate Change and Economic Growth: The Role of Environmental Policy Stringency", Sustainability, vol. 11(8), 2019, p. 1-15 (with. E. M. de Angelis and D. Vannoni).
"Trust and foreign ownership: Evidence from intra-European foreign direct investments," Review of International Economics, 27(1), 2019, p. 313-346 (with M. Da Rin, and A. Sembenelli).
"Do public hospitals respond to changes in DRG price regulation? The case of birth deliveries in the Italian NHS," Health Economics, 26(S2), 2017, p. 23–37 (with M. Piacenza, L. Siciliani, and G. Turati).
"Should we resurrect 'TIPP flottante' if oil price booms again? Specific taxes as fuel consumer price stabilizers," Energy Economics, 51, September 2015, p. 544–552 (with M. Piacenza, F. Scervini and G. Turati).
"Are 'flexible' taxation mechanisms effective in stabilizing fuel prices? An evaluation considering wholesale fuel markets," Energy Economics, 34(4), 2012, p. 1176-1186 (with M. Piacenza and G. Turati).
"Diversification strategies and scope economies: Evidence from a sample of Italian regional bus transportation providers," Applied Economics, 44 (22), 2012, p. 2867-2880 (with E. Ottoz).
"White Certificates in the Italian Energy Oligopoly Market," Energy Sources, Part B: Economics, Planning, and Policy, 7 (1), 2012, p. 104-111 (with V. Oikonomou, D. Russolillo and F. Becchis)
"Entrepreneurship, firm entry, and the taxation of corporate income: Evidence from Europe," Journal of Public Economics, 95 (9-10), 2011, p. 1048-1066 (with M. Da Rin and A. Sembenelli).
"Corporate Taxation and the Size of New Firms: Evidence from Europe," Journal of the European Economic Association, 8 (2-3), 2010, p. 606-616 (with M. Da Rin and A. Sembenelli).
"The relevance of scale and scope economies in the provision of urban and intercity bus transport," Journal of Transport, Economics and Policy, 44(2), 2010, p. 161-187 (with E. Ottoz).
Work in Progress
Redistributive effects of fuel taxation: An application to the Italian case, (with M. Piacenza, F. Scervini and G. Turati).
Corporate Income Taxation, Leverage at Entry, and the Growth of Entrepreneurial Firms (with M. Da Rin and A. Sembenelli).
The effect of co-payments on prenatal tests: Evidence from Italy (with M. Piacenza, L. Siciliani, and G. Turati).
Understanding productivity in maternity wards (with M. Piacenza, L. Salmasi, and G. Turati).
Cluster of immigrants and appropriate health care (with G. Perucca, M. Piacenza, and G. Turati)
Research topics
Research Interests
Applied Microeconomics, Entrepreunerial Firms, Corporate and Excise Taxation, Health Economics.
Past Research Projects
Fuel Taxation in Europe: Energy Prices and Public Policies (FUELTAXinEU) - funded by University of Torino and Compagnia di San Paolo
Taxation, Capital Structure and the Growth of New Firms - funded by EIEF Einaudi Institute for Economics and Finance
RICAFE - Risk Capital and the Financing of European Innovative Firms, funded by the European Commission, FP5 programme
RICAFE 2 - Regional Comparative Advantage and Knowledge-Based Entrepreneurship, funded by the European Commission, FP6 programme: link
TESI DI LAUREA TRIENNALI - REGOLE
- Verranno accettati al massimo 4 studenti per ciascuna sessione di laurea (estiva, autunnale anticipata, autunnale e invernale)
- Il lavoro viene svolto in autonomia dallo studente, mentre il docente ha un mero ruolo di guida e supporto. Il docente può essere contattato/incontrato al massimo tre volte:
Per il primo incontro in cui si individua l'argomento;
Per un secondo incontro intermedio, in cui lo studente deve avere svolto metà del lavoro;
Per una valutazione finale del lavoro.
- La stesura della relazione richiede all'incirca due - tre mesi di lavoro esclusivo.
- Per tale ragione, la tesi sarà assegnata unicamente a studenti che:
Hanno già superato l'esame di economia pubblica;
Sono al terzo anno del corso di laurea in Economia e Commercio;
Devono ancora superare al massimo quattro altri esami.
- Le richieste per la sessione estiva (laurea a luglio), autunnale anticipata (laurea a settembre) e autunnale (laurea a ottobre) si accettano nei soli mesi di febbraio e marzo.
- Le richieste per la sessione invernale (laurea a marzo) si accettano nel solo mese di settembre.
- Le richieste si effettuano inviando un'email al docente (marina.digiacomo@unito.it), indicando
il numero di esami da superare;
il voto di economia pubblica;
la media generale dei voti;
la sessione in cui ci si vuole laureare.
- Lo studente si impegna a rispettare le scadenze e a terminare la tesi entro la sessione prescelta. Per informazioni si consulti il sito del Corso di Studi (http://www.ecocomm.unito.it/do/home.pl/View?doc=Tesi_e_Laurea.html).
- Se vi sono più di quattro richieste per sessione di laurea, si darà precedenza a studenti con:
Minor numero di esami ancora da superare;
Voto di Economia pubblica più alto;
Media generale dei voti più alta.
- Non è necessario che lo studente abbia già un argomento per la tesi. Tuttavia è consigliata la frequenza dei corsi organizzati dalla Biblioteca della Scuola, di supporto alla stesura della relazione di laurea triennale (https://www.bem.unito.it/it/attivita-formative/corsi-laurea-di-1deg-livello).
Research projects
Office hours
I ricevimenti sono su appuntamento, scrivendo a marina.digiacomo@unito.it
Office Hour: please write to marina.digiacomo@unito.it to arrange a meeting.